PV Voltage Protector
MT53PV
MT53PV photovoltaic grid-connected remote control module is mainly used in distributed PV grid-connected power consumption systems. When the voltage on the photovoltaic side is overvoltage or undervoltage, it will automatically delay opening, and when the voltage is average, it will automatically close. When the voltage is too low, the automatic delay circuit breaker will trip and is lost.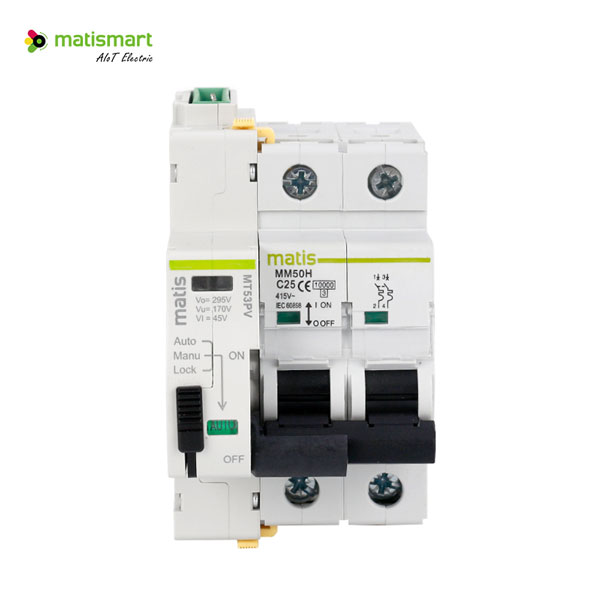 The circuit breaker has a rated insulation voltage of 400V, suitable for AC 50Hz, a rated working voltage of 230V, and a rated current of 63A or less.
Elecreical Characteristics

Standard
YDT 2346-2011
Power Distribution System
TN - S
Rated Voltage (Ue)
230 V ~ 50 / 60 Hz
Minimum Voltage (Minimum Ue)
160V
Maximum Voltage (Maximum Ue)
305V
Rated Insulation Voltage (Ui)
400V
Inter-polar Dielectric Strength Test Voltage
2500V AC for 1 minute
Uimp
4kV
Overvoltage Type
III
Rated Frequency
50Hz
Static Power
1VA
Power During Remote Control
20VA
Leakage Making/Breaking Capability (IÄm)
I∆m of related circuit breakers
Rated Condition Residual Short Circuit Current (IÄc)
I∆c of related circuit breakers
Handle Length
1 - 2
MCB Type
1P - 2P - 3P - 4P
RCCB Type
AC - A - A[IR] - A[S]
Rated Current (In)
In of related circuit breakers
Rated Residual Operating Current (IÄn)
I△n of related circuit breakers

Mechanical Characteristics

Width in the DIN Module
1
Maximum Operating Frequency
30open./h
Maximum Mechanical Durability (Total Number of Operations)
10000
Maximum Number of Continuous Auto-reclosings
3
Protection Grade
IP20(outside the cabinet)
IP40 (inside the cabinet)
Circuit Breaker Terminal Section
Soft wire: ≤ 1x16mm2
Hard wire: ≤ 1x25mm2

Environmental Characteristics

Pollution Level
2
Working Temperature
-25°C +60°C
Storage Temperature
-40°C +70°C
Relative Humidity
55°C - RH 95%

Over/Under Voltage Characteristics(Island Protection)

Overvoltage Protection Value
≥295±10V
Overvoltage Recovery Value
≤270±10V
Overvoltage Reaction Time
10s
Overvoltage Protection Reaction Time
4.5s
Undervoltage Protection Value
≥195±10V
Undervoltage Protection Reaction Time
10s
Voltage Loss Protection Value
≤45V
Voltage Loss Protection Time
4.5s

Functional Characteristics

Self-recovery Over/Under Voltage
•
Signal that a Reclosing
Operation is in Progress
•
Over/Under Voltage Indicator
•
Automatic/Manual Function
•
Anti-islanding
•
Internal Electrical Protection
PTC
Warranty
Anyone who purchases this model of device enjoys a 24-month warranty period from the date of purchase. During the warranty period, if the quality of the device itself affects the normal use, you can enjoy free repair and replacement, and the condition of paid service as follows: the improper use, drop, installation and wiring errors that cause irreversible damage. Besides, if you disassemble and modify the device yourself, you will not enjoy the warranty service.
Contact Us
* Name:
* Phone:
* E-mail:
* Interested in:
* Content:

Copyright © Shanghai Matis Electric Co.Ltd

沪ICP备09024882号-1