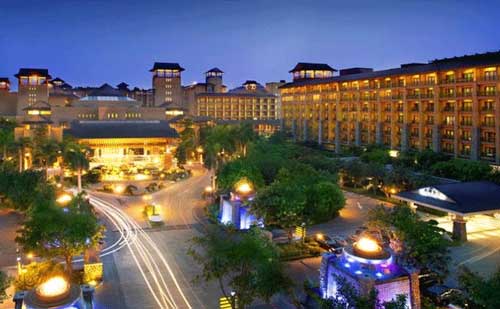 Project Background
As a part of the service industry, the h systems. From its basic power distribution system to the otel is inseparable from intelligent essential lighting system, It provides a continuous and reliable power supply and distribution system for the building.
Customer Target
1. For the hotel and electricity load, monitoring system, fire alarm and remote control system, fire pump, fire elevator, exhaust fan, emergency lighting, etc., it requires reliable use of electricity, remote control, and status feedback, to ensure all device reliable operation, even in emergency.
2. For the secondary load, passenger elevator, drainage pump, general room lighting, living water pump, air conditioning, water heater and other equipments, online energy monitoring, through data collection, accumulation, propose a system-specific node solution.
Solution
1. The primary load adopts AIoT metering MCCB to realize both circuit power supply, the grid power fails, the generator automatically starts, it will cut off unimportant loads. The grid power recovers, the generator automatically stops and connects with grid power supply, the emergency state stops and the load automatically connects.
2. For the equipment with high power consumption in hotel, our solution use AIoT metering breaker to achieve real-time data, measurement parameters and its protection parameters (line current, temperature, power, voltage, unbalance, phase loss protection, neutral loss protection), through data acquisition, it adopts for different operation for various loads to save energy. For example (hotel hot water pump as an example to use two heaters when the temperature is too low, and runs one heater only when temperature is appropriate, to save electricity.)
3. Smart remote recloser, realize remote automatic control, quickly handle power-off events; remote control: it can remotely control the power circuit when an unexpected event occurs.
Evaluation from users


Comments from the principal of the base station:
We are very glad to cooperate with Shanghai Matis Electric Co.,Ltd. to complete the project transformation, From the early stage of the project, including data collection, field investigation, load estimation and project transformation, Matismart not only provides stable and reliable products- advanced intelligent terminals of the same period, but also found and dealt with many electrical faults in time.
The power distribution of base stations requires very high reliability. Every power failure directly affects the use of customers, causing serious economic losses. On the other hand, electricity safety and energy consumption are also very important parts in the power utilization of the base station. Some of the base stations are in remote areas, electricity delivery and timeliness are critical. However, Shanghai Matis Electric Co.,Ltd. has a unique strategy for monitoring and control in practical applications,after many times of communication, from the two directions of management and energy consumption, they proposed a solution suitable for our actual operation.
Now, the system monitors the power utilization of the base station 24 hours a day, realizing the functions of power line management, intelligent analysis, electricity safety and electricity data monitoring in the project. The system can automatically quickly identify and alarm the abnormal electricity consumption. Meanwhilethe system realizes automatic timing management, electricity data detection and statistics, which is more convenient to promote advanced environmental protection concepts such as green electricity consumption and energy-saving control.
—— From the principal of the base station
Contact Us


Copyright © Shanghai Matis Electric Co.Ltd

沪ICP备09024882号-1