Smart MCB
MTS3
MTS3 is a smart MCB circuit breaker. It is also a remote control circuit breaker with electrical safety monitoring and power management system including hardware and software. This smart WiFi MCB integrates the latest and advanced technologies such as artificial intelligence, big data, IoT, and cloud computing. The system issues an early warning before a fault is reported.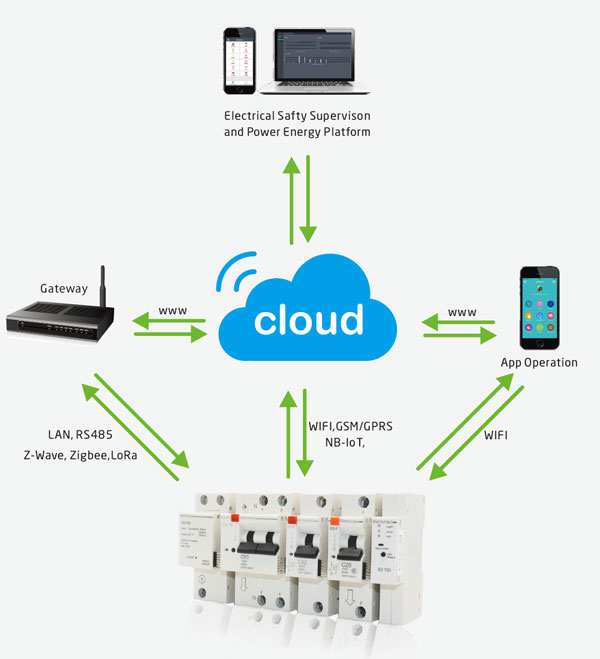 For this device, Matismart has developed a platform called "Smart Electrical Safety Supervision and Power Management Platform" which has features like Online power management, real-time power efficiency monitoring, and real-time monitoring of electrical circuit parameters (voltage, current, power KWH, etc), and are reported, which help identify where energy savings are required, and further save power bills through analysis of collected data, power consumption analysis.
Features
Device Extendable
This is a modular device that can be extendable as traditional MCB and RCBO. It withstands a maximum current of up to 80A. 1,2,3 & 4 Pole for iMCB are available.
Minimum Space Requirement
Except for Power supply module of 36mm and the communication module of 18mm, the iMCB and iRCBO have an extra 9mm or 18mm control module, different from traditional MCB and RCBO.
Very Simple Installation
All devices are mounted in 35mm Din Rail and connected by connection pins or flexible flat cable. No special tools are required for the entire connection process.
System Compatibility
This system can be compatible with other systems, such as smart homes, fire monitoring systems, energy efficiency management systems, smoke, and voice control, etc.
Electrical Faults Analysis
The system can realize the real-time analysis of all electrical faults of both main and branch lines: short circuits, earth leakage, overload, over/under voltage, overheated, arc fault, etc.
Monitor Electrical Circuit Parameter
The system can realize real-time monitoring of electrical circuit parameters: voltage, current, power, temperature, residual current, and KWH.
Full Protection
This system includes all protections: overload, short circuit, earth leakage, surge, over/under voltage, arcing fault, phase loss, unbalance, and high temperature.
Max. power and Current Setting
The power and current under-rated current power can be adjustable through the App or software platform.
Auto-test of Earth Leakage Current
The device periodically tests the working of the residual current circuit protection, which can be set on a fixed date each month in the APP, rather than the traditional test monthly on-site.
Anti-fraud of Electricity
Technical Specification of Power Supply Module

Power supply module will offer stable DC power for smart breaker MTS3 and owns class II surge protection. It is also the necessary part for smart breaker MTS3 system.
Item Code
MTS3-P25
MTS3-P25D
Standards
EN55022, EN55024, EN61000, EN60950, GB4943
Approvals
CE, CCC
Functions (Vac)
Power Supplier, surge Protection
Rated Voltage Ue (Vac)
220
Rated Input Voltage Range (Hz)
100-265
Frequency (HZ) (mA)
50/60
Rated Input Current (Vac)
350
Rated Output Voltage (A)
12
Rated Output Current
2.5
Type / Test Class of Surge Protection (mm)
2 / II
Numbers of Modules ( 1 module=18mm) (KA)
36 (2P)
Max. Discharge Current Imax (8/20) per pole Imax (KA)
15
Nominal Discharge Current In (8/20) per pole In
10
Max. Working Capacity (Max.numbers of breakers) (mm²)
10*(iRCBO/ iMCB)
Conductor Cross-sections (mm²)
38
Pollution Degree
2
Ambient Temperature (ºC)
-15 - +40
Storage Temperature (ºC)
-25 - +70
Humidity
< 95%
Altitude
<=2000
Terminal Connection
Cable / Pin-type busbar
Mounting
Din rail En60715(35mm) by means of fast clip device
Connection
Both from top to bottom or reverse
Technical Specification of iRCBO

Power supply module will offer stable DC power for smart breaker MTS3 and owns class II surge protection. It is also the necessary part for smart breaker MTS3 system.
Item Code
MTS3-R2
MTS3-R4
Standards
IEC61009.1, GB16917.1
Approvals
CE, CCC
Approvals
2P
4P
Rated Voltage Ue (Vac)
230
400
Frequency (HZ) (mA)
50/60
Rated Current (A)
16,20,25,32,40,50,63,80
Type (wave form of the earth leakage sensed) (mA)
AC
Rated Resdiual Current (I∆n) (Vac)
30
Rated Insulation Voltage Ui (A)
500
Rated Breaking Capacity acc.to IEC61009 Ultimate Icn
6000
Breaking Time Under I∆n
<=0.1 S
Breaking Time Under Icn
<=0.04S
Tripping Characteristic
C (5-10In)
Other Functions
Over /under voltage protection, warning and alarm
Max. power and current setting
Auto test of earth leakage current
High temperature protection, warning and alarm
Arcing fault protection, warning and alarm
Monitor of current, power, voltage in real-time
Remote control
Timer
Meter
Event record and notice
Breaking time when voltage is over 265Vac
10s
Over / Under Voltage Warning
Voltage is higher than 250Vac or lower than 190Vac
Breaking time when the current reach the
5s
Max.current or power setup the time for switching on automatically after
5s
Auto-test of earth leakage current (mA)
30,50,100,1000(adjustable)
Max. Working Capacity (Max.numbers of breakers) (mm²)
29*(iRCBO/ iMCB)
Electric Life (Times)
10000
Mechanical Life (Times)
20000
Conductor Cross-sections (mm²)
38
Protection Degree
2
Numbers of modules (1 module=18mm)
3 (54mm)
5(90mm)
Ambient Temperature (ºC)
-15 - +40
Storage Temperature (ºC)
-25 - +70
Humidity
< 95%
Altitude
<=2000
Terminal Connection
Cable/Pin-type busbar
Mounting
Din rail En60715(35mm) by means of fast clip device
Connection
Both from top to bottom or reverse
Technical Specification of iMCB

Smart Breakers are the core part of MTS3 smart system,it combine protection, metering, monitor, timer,automation, event record and notice.
Item Code
MTS3-M1
MTS3-M2
MTS3-M3
MTS3-M4
Standards
IEC60898, GB10963.1
Approvals
CE, CCC
Poles
1P
2P
3P
4P
Rated Voltage Ue (Vac)
230/400-240/415
Operational Voltage (Vac)
Min.90 Max:250/440
Frequency (HZ)
50 / 60
Rated Current (A)
10,16, 20, 25, 32, 40, 50, 63, 80
Rated insulation voltage Ui (Vac)
500
Rated Impulse Withstand Voltage (1.2/50) Uimp (Vac)
2500
Rated Breaking Capacity Acc.to IEC60899 Icn (A)
6000
Breaking Time Under Icn
<=0.04S
Tripping Characteristic
B (3-5In), C (5-10In), D (10-14In)
Other Functions
Over /under voltage protection , warning and Alarm
Max. Power and Current Setting
Auto test of earth leakage current
High Temperature protection, warning and Alarm
Arcing Fault Protection, warning and Alarm
Monitor of Current, power, voltage in real-time
Remote control
Timer
Meter
Event record and notice
Breaking time when voltage is over 263Vac
10S
Over / Undder Voltage Warning
when voltage is higher than 250Vac or lower than 190Vac
Breaking time when the current reach the max.current or power setup
5s
Electric Life (Times)
10000
Mechanical Life (Times)
20000
Conductor Cross-sections (mm²)
38
Pollution Degree
2
Numbers of Modules ( 1 module=18mm)
1.5 (27mm)
2.5 (45mm)
4 (72mm)
5 (90mm)
Ambient Temperature (ºC)
-15 - +40
Storage Temperature (ºC)
-25 - +70
Humidity
< 95%
Altitude
<=2000
Terminal Connection
Cable/Pin-type busbar
Mounting
Din rail En60715(35mm) by means of fast clip device
Connection
Both from top to bottom or reverse
Technical Specification of Communicaiton Module

Communication module includes wireless and wired mechanism's. It also functions as hotspot.
Order Code
MTS3-C
Product Code
S3-T30/RS485/WIFI/4G/Ethernet
Standards
EN301489, EN300328, EN62479, EN60950
Approvals
CE, CCC
Types (Vdc)

S3-T30/RS485/WIFI/4G/Ethernet

Rated Input Voltage
12
Numbers of modules (1 module=18mm)
1 (18mm)
Max. working capacity ( Max.numbers of breaker powering) (mm²)
16, 20, 25, 32, 40, 50, 63, 80
Type (wave form of the earth leakage sensed)
(iRCBO+ iMCB) x 32pcs
Conductor Cross-sections
2
Ambient Temperature (ºC)
-15 - +40
Storage Temperature (ºC)
-25 - +70
Humidity
< 95%
Altitude
<=2000
Terminal Connection
Cable / Pin-type busbar
Mounting
Din rail EN60715(35mm) by means of fast clip
Connection
Both from top to bottom or reverse
Contact Us
* Name:
* Phone:
* E-mail:
* Interested in:
* Content:

Copyright © Shanghai Matis Electric Co.Ltd

沪ICP备09024882号-1