Smart Circuit Breaker
MT61-GP
MT61-GP is an integrated system of smart meters, breakers, and communications.
• Electrical parameter monitoring
• Full Protection
• Prepaid metering function with AMR
• Billing system and online payment
• Bidirectional Communications
• Remote control and remote lock
• Tamper event detection, recording, and reporting
• Power event alarms
• Current is up to 80A
Video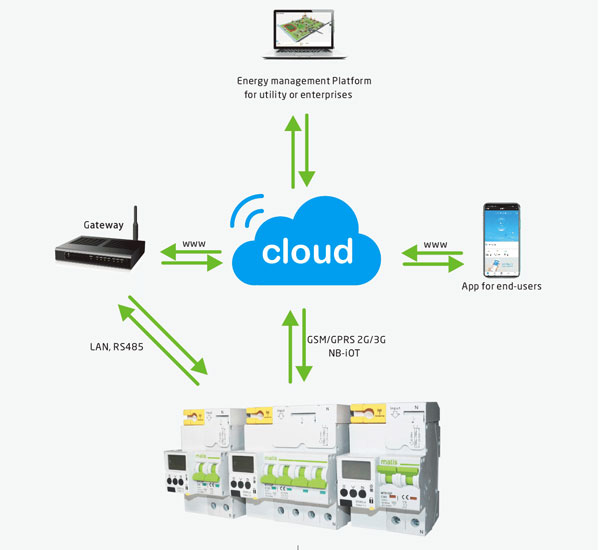 Features
Individual Device
This system is a kind of "all-in-one device", which integrates smart meter breakers, protection, remote control, communication, etc. It includes single-phase two wires and three phases four wires, and the rated current is up to 100A. Based on MT61GP smart circuit breaker, we developed a system called "Smart Power Management Platform" which is mainly used for smart electrical safety, metering and billing management, and smart power monitoring management.
Minimum Space Requirement
Compared to traditional 2P and 4P MCB, it only has an extra controller of 36mm width.
Easy to Installation
The device can be mounted in 35mm Din Rail very easily and individually.
Metering
Active and reactive energy metering (accuracy: class 1.0) Respective Measurement of Forward / reverse active energy (Programmable)
Maximum demand (MD) Measurement
Multi-tariff Measurement: 4 tariffs (Sharp, Peak, Flat, Valley) and 24-hour shifts & automatic Switch to the other standby tariff 12 monthly billings record (data item programmable)
7 digits
Data Frozen: daily, weekly, monthly, and quarterly data frozen and transferred to the cloud server
Strong Anti-tamper Functions: Electricity theft detection, terminal cover locked, and alarm for opening meter box door
Full Protection
This system includes all the protections: Overload, Short Circuit, Over/Under Voltage, Phase Loss, Unbalance, High-temperature
Communication
RS485, GRPS2G/3G, NB-IoT
Protocol
Modbus and MQTT
Electrical Faults Analysis
The device may realize the real-time analysis of all electrical faults: short circuits, earth leakage, overload, over/under voltage, and overheated.
Monitoring in Real-time
The device may make realize real-time monitoring of electrical circuit parameters: Current, voltage, active Power, reactive power, Power factor, Frequency, Temperature
Over/under voltage value and over current protection value limit
The over/under voltage value and over current protection value can be adjustable through a software platform.
FAQ
Q1. Are you trading company or manufacturer?
+
We are factory and manufacturer for smart circuit breaker.
Q2. What kind of Communication module you have?
+
We have WIFI,4G communication module, both two type with rs485.
Q3. Can we have the total consumption of the installation and also the control of the circuit breakers?
+
Yes, you can see consumption by APP or platform, and remote control it.
Q4. What is the function of this product?
+
Include: Meter, Full electrical protection(short circuit, overload; over/under voltage, fault analysis), remote control, power/current limit monitoring real‐ time power data, warning/alarm, software APP,
software platform
.
Q5. How can I see your product video?
+
You can see our product video by Youtube, our Channel:
Matismart
.
Q6. Why should we buy from you not from other suppliers?
+
1. Advanced equipment and technology
2. Excellent management and team
3. Fast response and shipment
4. Efficient product development and customization.
Technical Specifications

Item Code
MT61-GP
MT61-GP
Standards
IEC62053-21, IEC60898
Approvals
CE, CCC
Phase
Single Phase
Three Phase
Rated Voltage (Vac)
230V/110V
380V/220V
Insulation Voltage (Vac)
500
Type of Energy Meter
Bidirectional Meter (Purchase and supply)
Measurement Value
Active energy( kWh), Reactive energy (kvar),
Active Power(kW),Current(A), Voltage(V),
Power factor(cosphi),temperature, Switch Status
Accuacy for Active Energy
1%
Accuacy for Reactive Energy
2%
Impulse
1000 imp/kWh
Frequency (HZ)
50/60
Rated Current (A)
16, 20, 25, 32, 40, 50,63, 80
Limit Current (A)
125A
Measuring Range
0.4-18400W
Data Storage
24 months
Power Consumption
<8W
Rated Impulse Withstand Voltage (1.2/50) Uimp (Vac)
2500
Rated Breaking Capacity acc.to IEC60899 Icn (A)
6000
Tripping Characteristic
C (5-10In)
Connectivity
RS485, GPRS 2G, GPRS 3G (900/2100MHz)
Conductor Cross-sections (mm)
25
Pollution Degree
2
Ambient Temperature (℃)
-5 - +40
Storage Temperature (℃)
-25 - +70
Humidity
<95%
Altitude (m)
<=2000
Terminal Connection
Cable/Pin-type busbar
Mounting
Din rail En60715(35mm) by means of fast clip device
Connection
From top to bottom
Contact Us
* Name:
* Phone:
* E-mail:
* Interested in:
* Content:

Copyright © Shanghai Matis Electric Co.Ltd

沪ICP备09024882号-1