Automatic Reclosing Device
MT51
MT51 automatic recloser device is designed to automatically restart the associated protective device after it has an untimely trip. The time sequence and the max. the reclosing number can be set in the device. The MT51 can be in conjunction with Acti 9 series from Schneider as well. Dry contact and RS485 are options.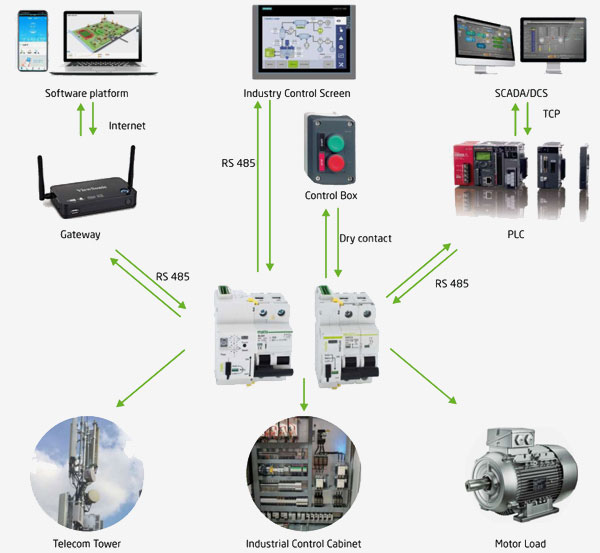 Features
Remote reclosing of iC65 MCB, RCBO, RCCB of Acti 9 Range from Schneider and MCB MM50H, RCBO
MR50-32, RCBO50-40, RCCB ML50H
Remote control of iC65 MCB, RCBO, RCCB through PLC or platform with RS485 connection
Remote control of iC65 MCB, RCBO, RCCB through dry contact connection
Reclosing times and delay times can be set up and adjusted as per request.
Reclose itself if there is no faulty, and it may output the signal to remote terminals if it is faulty
Padlocking to secure the circuit and assure the safety of people when maintainance
Together with MCB, RCBO, and RCCB, it may offer overload, short circuit, and earth leakage protection.
Local control via the handle
Communication: RS 485
With remote auxiliary contact NO & NC
Auto Recloser Circuit Diagram
Electrical Features

Item Code
MT51RA/MT51NA/MT51RS/MT51NS
Rated Voltage Ue (Vac)
230
Rated Frequency (Hz)
50/60
Power Consumption (VA)
3
Standby Power
0.5
Insulation Voltage Ui (Vac)
4000V/min
Trip Time (s)
<0.1
Trips (Times)
Reclose adjustable (times): 0,1,2,3, 4, 5, 6, 7, 8, 9
Time Delay

(s)

0, 10, 20, 30, 45, 60, 90, 120, 150, 180 (adjustable)
Reclosing Time (s)
-
Reset System (ISPDT)
Rated Current 5A (250VAC) resistant load
Pollution Degree
2

Mechnical Features

Width (mm)
36
Electrical Life (times)
10000
Mechanical Life (times)
20000
Protection Degree
IP20
Reference Temperature for Setting of Thermal Elecment (℃)
30
Ambient Temperature (℃)
-25---+55
Storage Temperature (℃)
-40---+70

Installation

Humidity (℃)
95%
Terminal Connection Type
Cable
Terminal Size Top/Bottom for Cable (mm2)
1x25.2x25
Tightening Torque (N*m)
4
Mounting
On Din rail En60715(35mm) by means of fast clip device
Connection
From top to bottom

Communication Port

Remote auxiliary contacts NO & NC RS485 communication port

Compatiable Device

MCB,RCCB,RCBO from Matismart, Chint, Nader and Schneider. Customized.
Contact Us
* Name:
* Phone:
* E-mail:
* Interested in:
* Content:

Copyright © Shanghai Matis Electric Co.Ltd

沪ICP备09024882号-1