Voltage Protected Breaker
MT66
MT66 voltage protection breaker is designed for distributed grid-connected PV systems especially. The voltage protector circuit will switch opening with a certain delay time automatically when overvoltage or Undervoltage happens and reclose automatically when comes to normal. The voltage protection circuit breaker also has an external breaker with communication and remote control.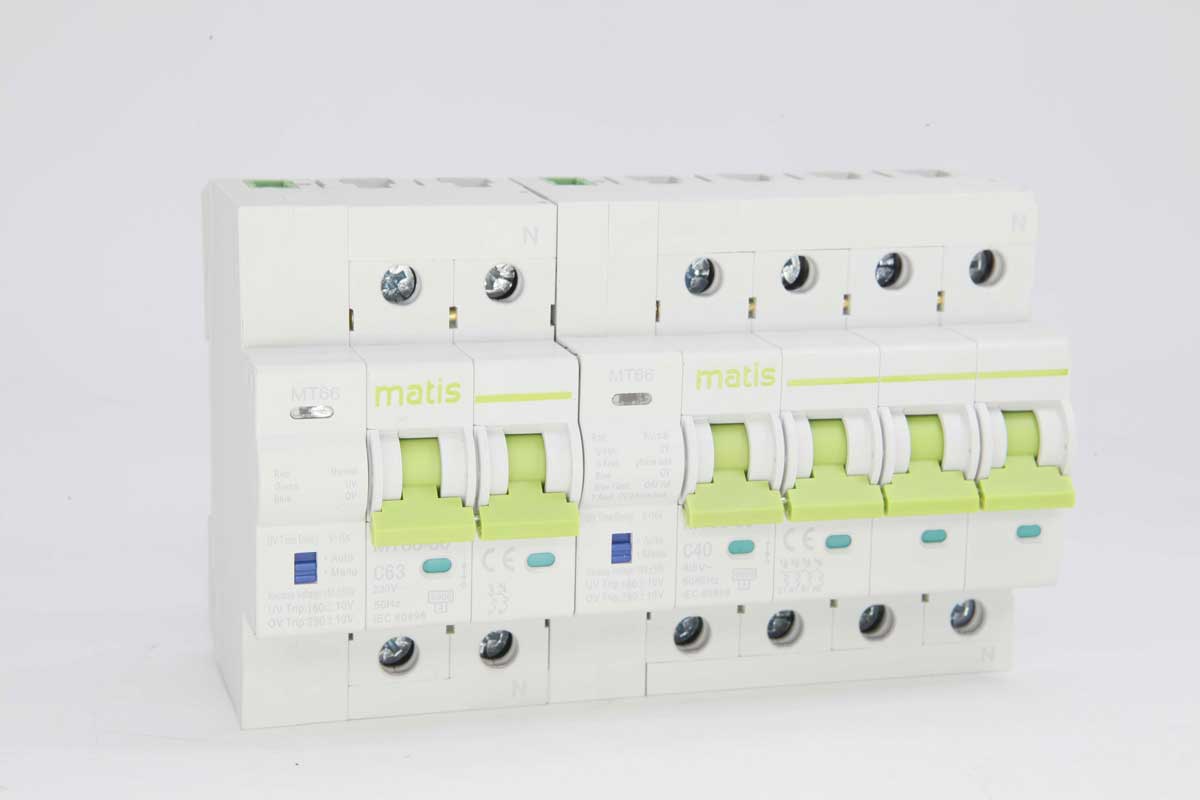 Features
Minimum Space Requirement: Small size, the control module is just 18mm
Muli-functions: Auto-opening in overvoltage, auto-closing in under voltage, auto-closing in no-voltage, auto-reclosing in normal voltage, and remote control
High action time: Closing time is less than 2 seconds, opening time is less than 0.6 seconds
Very Simple Installation: All devices are easily mounted in 35mm Rail
High Life: The mechanical life reaches 20000 times
High Current: There are two frames and the rated current is up to 125A
High Reliability: It is driven internally and simultaneously with complete reliability and long life
Easy Wiring: Power is supplied internally and the wiring connection is completely the same as traditional MCB.
Electrical Features

Item Code
MT66-2P
MT66-4P
Standards
IEC60898, GB10963.1
Approvals
CCC, CE
Rated Voltage Ue (Vac)
230
400
Frame Currem Inm (A)
80,125
Rated Current In (A)
40,50,63,80,100,125
Rated Frequency (Hz)
50/60
Rated Insulation Voltage Ui (Vac)
500
Rated Impulse Withstand Voltage (1.2/50) Uimp (A)
2500
Rated Breaking Capacity acc.to IEC60899 Icn (A)
6000
Tripping Characteristic
C (5-10In)
D (10-14In)
Pollution Degree
2

Mechnical Features

Width (mm)
54
90
Electrical Life (times)
20000
Mechanical Life (times)
60000
Protection Degree
IP20
IP40
Reference Temperature for Setting of Thermal Elecment (℃)
30
Ambient Temperature (℃)
-25---+55
Storage Temperature (℃)
-40---+70
Humidity (℃)
95%

Self-resetting Overvoltage and Undervoltage Protection

Overvoltage Action Value
>290V±10V
Overvoltage Recovery Value
<280V±10V
Undervoltage Action Value
<160V±10V
Undervoltage Recovery Value
>190V±10V

Installation

Terminal Connection Type
Cable
Terminal Size Top/Bottom for Cable (mm2)
1x25.2x25
Tightening Torque (N*m)
4
Mounting
On Din rail En60715(35mm) by means of fast clip device
Connection
From top to bottom
Contact Us
* Name:
* Phone:
* E-mail:
* Interested in:
* Content:

Copyright © Shanghai Matis Electric Co.Ltd

沪ICP备09024882号-1